Fancy a job in the lab? We're always on the lookout for bright new staff who are fun to work and play with. The key American personnel, whose expertise includes research, program development, administration and operations, will only spend an average of about one or two weeks in Ireland each year, so there will be plenty of donkey work for Irish staff to do in the Lab. Your mission, should you choose to accept it, is to:
prepare future generations of young researchers, inventors and artists to become international entrepreneurs and leaders in communications and multimedia like Bill Gates and our own Denis O'Brien;
play with the Lego bricks
several of the lab's staff have also been consultants on the highly successful television series "Futurama" by Matt Groening
And now thanks to the wonders of the Internet you can apply for a job here and now - online! Take the following recruitment test, which has been compiled by our busy HR department and is processed by our "job bot"...
---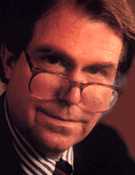 Nicholas Negroponte: what did he write again (question 6)?